Extendicare Long-Term Care Staff Testing Program continues to protect Ontario's residents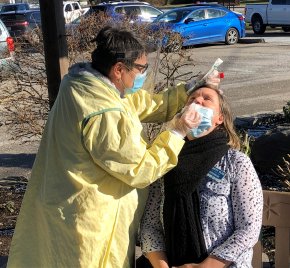 The COVID-19 pandemic hit long-term care homes hard around the world. It's an aggressive virus that poses a huge risk to us all, but especially to the health of seniors.
Extendicare moved quickly in early 2020 to secure personal protective equipment supply lines and establish protocols with public health officials to protect the people we care for. Informed by our experience in the first wave of the pandemic, we knew we had to get ahead of the virus to better ensure the safety of the residents in our homes.
In June 2020, Extendicare launched a regular staff testing program in Ontario so we could do just that. Staff were tested on a weekly basis in most parts of the province, giving homes the information needed to identify asymptomatic or pre-symptomatic staff so they could go home to isolate.
Our caregivers are incredibly dedicated people. With spread of the virus in surrounding communities a major concern, there was worry across the board of unknowingly bringing the virus into homes. This program has helped put those worries at bay, arming our teams with the knowledge they need to be there for our residents without posing a risk to their health.
Since June, more than 129,000 tests have been conducted for staff at Extendicare and Extendicare Assist homes in Ontario, helping to avoid outbreaks in long-term care and contain them when the virus does appear. It's been a major advantage in our fight against COVID-19.
Our teams deserve a huge thank you for their support and enthusiastic participation in the program. Their efforts have increased the level of safety inside our homes so that we can better ensure the health of our residents and the teams who care for them.